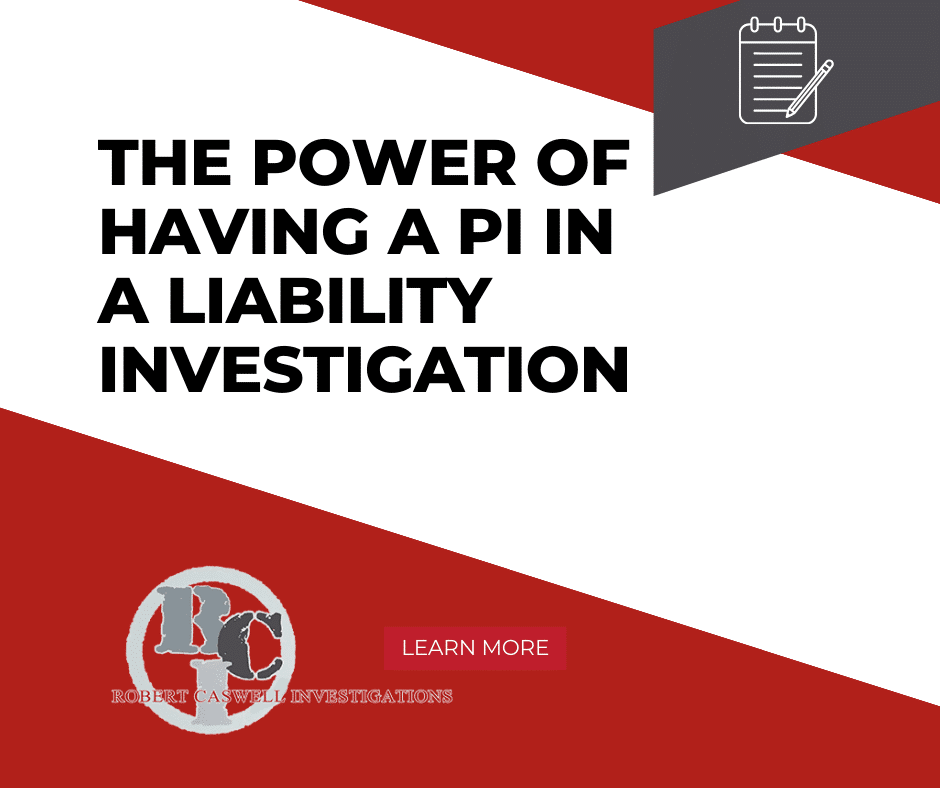 17 Oct

The Power of Private Investigators in Liability Investigations
A Must for Your Business
Liability lawsuits can pose a significant threat to businesses, especially small to medium enterprises. In fact, these lawsuits cost small businesses an astonishing $182 billion just last year, leading many to close their doors permanently. When you're faced with a liability case initiated by an employee, it's crucial to know your options and understand who is truly at fault.
The key to navigating these tricky waters? A private investigator specializing in liability. While it may seem like an extreme step, employing a private investigator often proves to be the most prudent course of action, particularly when you're confident that your company is blameless. Let's delve into why a private investigator service could be invaluable to your business.
1. Avoiding Unpleasant Disputes
One of the prime advantages of using a private investigator in employment investigations is the ability to maintain a safe distance from any potential discord. Liability cases involving employees can turn into messy and legally complex situations. By engaging a private investigator, you entrust the matter to a proficient and discreet third party, steering clear of possible HR complications.
2. Compliance Expertise
Liability investigations are sensitive legal procedures that intersect with numerous workplace compliance regulations. A single misstep could jeopardize your case, potentially leading to losses for you and your business. A skilled private investigator assures you that the investigation will be managed by someone well-versed in employment law, ensuring everything remains compliant and transparent.
3. Access to Exclusive Resources
When you bring a private investigator on board, you gain access to resources that aren't typically available to business owners. Private investigators have the authority to conduct background checks, consult legal databases, and liaise with law enforcement agencies. These actions can bolster your case and help unearth the truth, and are best handled by a competent private investigator.
4. Efficient Work
A private investigator will take full responsibility for the investigation, dedicating all of their time to it. This allows you to maintain a safe distance and avoid getting entangled in complex legal work. You can focus on what you do best: growing your business. An experienced private investigator can conduct the investigation efficiently and promptly, without requiring your intervention.
5. Building a Solid Legal Defense
It's worth reiterating that a private investigator is vital if you plan to build a robust legal defense against an employee's liability claim. An investigator can gather evidence and build a persuasive case to demonstrate in court that you are not liable. If you feel you can't achieve this alone, then a private investigator is the right choice.
Secure a Trusted Workplace Private Investigator Today
Employment investigations can be a challenging ordeal. To minimize the stress and resolve your case professionally and efficiently, consider hiring an experienced private investigator. To learn more about our employment investigation services, don't hesitate to reach out today. We're here to help secure your business's future.