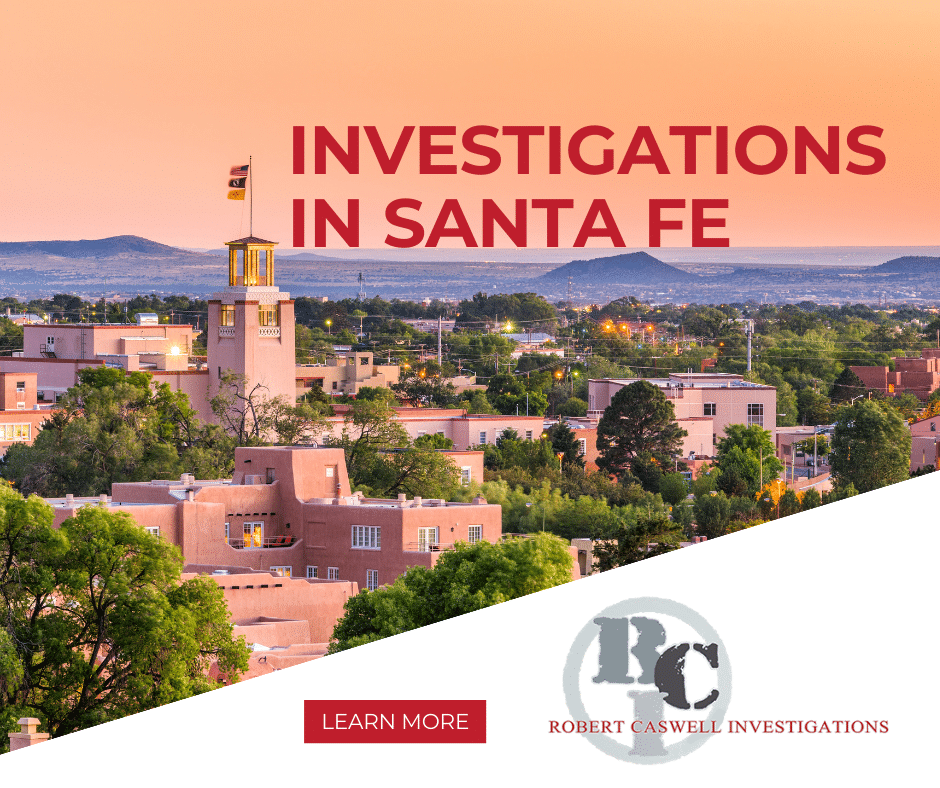 22 Aug

RCI: Your Trusted Partner for Private Investigations in Santa Fe, NM
Uncovering the Evidence with Expertise and Discretion
Santa Fe, the government seat for the New Mexico State Government, is a city teeming with diverse needs when it comes to private investigation services. At RCI Investigations, we are proud to be in the perfect position to meet and exceed these demands, leveraging our vast capabilities and expertise in the state of New Mexico. With a commitment to professionalism, legal compliance, and utmost discretion, we offer comprehensive solutions tailored to your unique requirements.
Finding the Unfindable
Are you in search of someone who seems to have disappeared without a trace? Our skilled team at RCI Investigations specializes in locating individuals even in the most challenging circumstances. Whether it's a long-lost relative, a missing witness, or a debtor, our extensive network and cutting-edge techniques enable us to track down elusive individuals efficiently and ethically.
Surveillance Services that Deliver Results
Sometimes, gaining valuable information requires discreet observation and surveillance. RCI Investigations has honed its surveillance capabilities to perfection, ensuring that our clients receive accurate and actionable intelligence. From suspected fraud to informational espionage and suspicious activities, our skilled investigators employ state-of-the-art technology and meticulous attention to detail to uncover evidence.
Private and Internal Investigations
In addition to locating individuals and conducting surveillance, RCI Investigations possesses the expertise to handle a wide range of private and internal investigations. With our in-depth understanding of New Mexico and Utah laws and regulations, we meticulously conduct investigations related to personel matters, financial discrepancies, workplace misconduct, and more. Our team adopts a systematic approach, collecting evidence, interviewing relevant parties, and delivering comprehensive reports that can withstand legal scrutiny when required.
Why Choose RCI Investigations?
Experience: With years of experience in the industry, RCI Investigations has built a stellar reputation for delivering exceptional results.
Expertise: Our team of skilled investigators possesses a diverse range of expertise and continuously stays updated with the latest techniques and advancements in the field.
Legal Compliance: We strictly adhere to all legal and ethical standards, ensuring that our investigations are conducted within the boundaries of the law.
Discretion: At RCI Investigations, we understand the sensitive nature of our clients' needs. That's why we guarantee utmost discretion throughout the entire investigation process.
Customized Solutions: We recognize that each case is unique. Therefore, we provide personalized solutions tailored to your specific requirements, maximizing the chances of success.
Contact RCI Investigations Today
When you require professional, reliable, and confidential private investigation services in Santa Fe, New Mexico, RCI Investigations is your trusted partner. Our dedicated team is ready to assist you in uncovering the truth and offering the peace of mind you deserve. Contact us today at 505-797-5661 or visit our website rcipi.com schedule a consultation.
Disclaimer: RCI Investigations operates within the confines of the law and adheres to ethical guidelines and regulations governing private investigation services in Santa Fe, New Mexico.